Two of the BEST Drinking Holiday's Collide, on Saturday May 6th, for our Hybrid Cinco De Mayo X Kentucky Derby Bar Crawl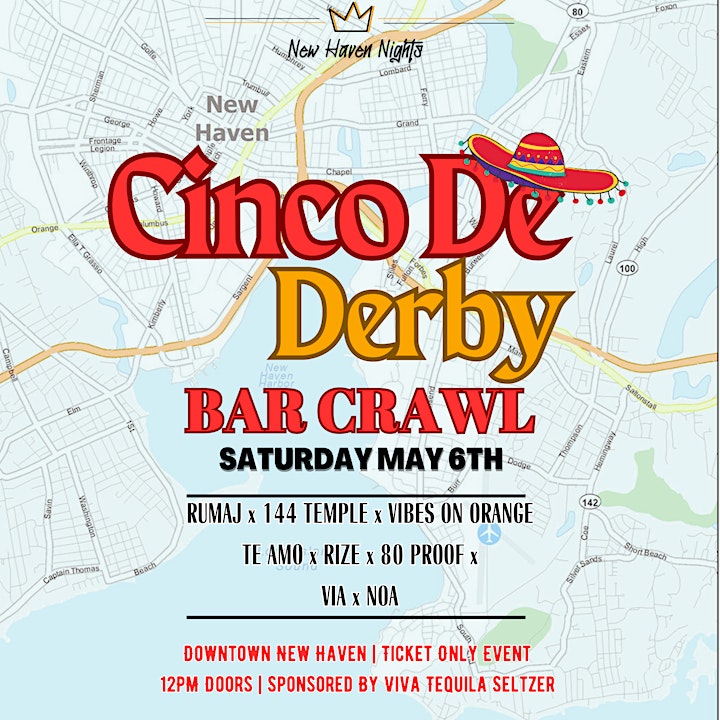 Connecticut's BIGGEST & WILDEST Bar Crawl Series: THE GRAND FINALE
Sponsored By VIVA Tequila Seltzer
TICKET ONLY EVENT
2ND ANNUAL CINCO DE MAYO CRAWL: Two of the BEST day-drinking Holidays collide as we celebrate Cinco De Mayo & The Kentucky Derby all in one on Saturday, May 6th. Join 1,500+ spread out over 8 of New Haven's BEST Bars/Clubs from 12PM-9PM, in Downtown New Haven, CT.
We've cut down some of the venues to keep this day valuable and intimate to each and every Crawler.
Drink Specials? We got you covered. Every single venue will have it's own unique Cinco De Mayo & Kentucky Derby Specials (up to 50% most drinks) and they will be emailed out to each participant days ahead of time.
Our Sponsors & Cash Team will be giving out FREE PRODUCTS & CASH GIVEAWAYS (best dressed awards, etc.) all day long.
There will be tons of surprises along the way, followed by a MASSIVE After-Party at night.
Because what's better than Day-Dinking, 70 degree weather, live music, & TEQUILA?
Exclusive Venues (12PM-8PM)
144 Temple (12PM-8PM) *Viva Tequila HQ
Vibes On Orange (12PM-10PM) *18+
Rize Nightclub (12PM-8PM) *18+
Rumaj Nightclub (3:30PM-8PM)
VIA Gastrobar (2PM-9PM)
Te Amo Tequila Bar (12PM-5PM)
NOA (2PM-12AM) *18+
80 Proof (1PM-8PM)

What My Ticket Gets Me:
Entry To ALL 9 Exclusive Venues/Simultaneous Parties
Cover-Charged Waved at ALL Participating Venues
Cinco/Derby Drink Specials at Each Bar (up to 50% off)
Mexican Street Food (up to 50% off)
Entry To Giveaways (Cash, Swag, & Products)
Viva Tequila Seltzer Giveaways (144 Temple)
12+ of New England's Top DJ's
Live Band
Virtual Crawl Map
Photo Booth & Photographers on Site
Kentucky Derby Viewing Party (144 Temple, VIA, & Vibes On Orange)
Best Dressed (Derby/Cinco) $500 Prizes (MULTIPLE!)
Access To Official After Party (9PM-2AM)
& More
Attire (How To Win $$):
Kentucky Derby Outfits
Cinco De Mayo Outfits
The Craziest Darty Attire You Can Think Of!
Your Crawl Guide:
Drink Specials
DJ Lineup & Times
Crawl Lineup & Different Themes
Full List Of Bars/Routes
Virtual Crawl Maps
& More
Emailed ahead of time
We have been working extremely hard with our Sponsors to make this Event extremely special. This Event is limited to 1,500 people to assure a smooth & exclusive Event!
Ticket Only Event!