Join us for Music in the Tavern with In Trine!
// ABOUT IN TRINE //
In Trine is a musical collaboration between Kate Callahan, Cynthia Wolcott, and Michelle Begley. After ten years of singing under various names, the trio has arrived at their forever name: an astrological reference to the harmonious alignment of three bodies. In Trine will release their 1st album (and Kate's 5th) in the summer of 2022. The album, titled "Lay it Down" features Stephen Murphy's production and instrumental work along with jazz percussionist Ed Fast. The album started as a pandemic passion project between Callahan and Murphy.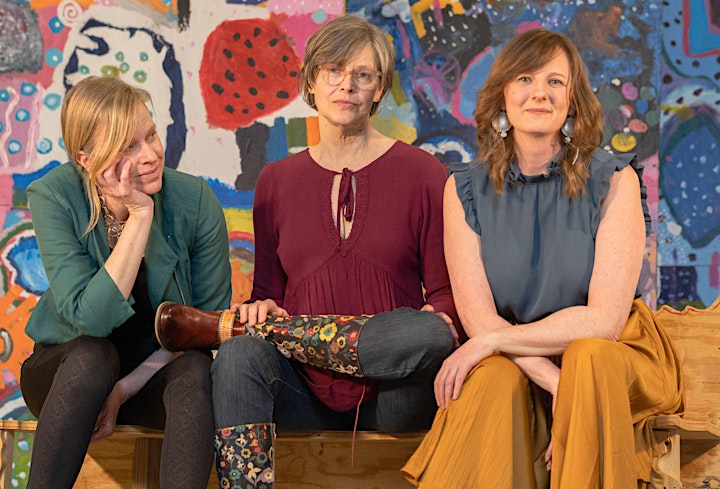 // ABOUT THE TRIO //
Michelle is the Education Programs Director for the American Mural Project and has extensive experience in the arts as a performer, conductor, administrator and teaching artist, developing and leading creative programs for people of all ages. She sings regularly with a variety of small and large choral groups, is blissed out when singing with her kids and friends and has delighted in trio singing with Kate and Cynthia for the last 10 years!
Cynthia enjoys doing many different things in her life; one of her absolute favorites is singing with these two women. She helped raise four truly good humans, leads lots of yoga and mindful movement classes, helps folks lead their most fulfilled lives, and hosts concerts in her yard. Connecting with others nourishes her soul.
Kate is one of the most awarded singer-songwriters in Connecticut having served as Connecticut's 16th State Troubadour 2016-18, when she began leading a vocal empowerment program for the women at York Correctional Institution. Kate is a Literacy Interventionist at Bristol Central High School by day and has been named CT's Best Singer-Songwriter 2013, Best Traditional/Folk Artist 2019, and United Arts Campaign Artist of the Year 2016.
// ABOUT THE MUSIC IN THE TAVRN SERIES //
Stanley-Whitman House's Music in the Tavern Series presents artists and shows differently than a club show- instead our house concert is more up close and personal. All of the artifice is stripped away. No stage, no dressing rooms, no barrier between the performer and the audience. The SWH Music in the Tavern series is more like being one-step-closer to the way music was intended- an artist traveling from town to town, telling stories and making friends. Come check this out!
// ABOUT THE MUSEUM //
Stanley-Whitman House is a living history center and museum that teaches through the collection, preservation, research, and dynamic interpretation of the history and culture of early Farmington. Programs, events, classes, and exhibits encourage visitors of all ages to immerse themselves in history by doing, acting, questioning, and engaging in colonial life and the ideas that formed the foundation of that culture.
FMI: https://s-wh.org